Linolenic acid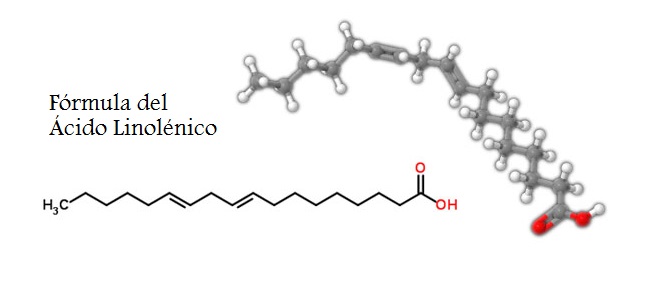 What is linolenic acid?
Linolenic acid is a polyunsaturated fatty acid that occurs primarily in vegetable oils called driers (mainly linseed oil or flax) oil which is the major fatty acid, typically accompanied by short saturated fatty acids and other unsaturated fatty acids.
C18H30O2 corresponds to the mono-carboxylic straight-chain acid with 18 carbon atoms and three double bonds "cis", at position 9, 12 and 15. It has a content of linolenic acid ranging between 45-60%.
CAS number: 68424-45-3
EC number: 270-304-8
Origin and extraction
Properties and applications:
Products and presentation:
Tab 1
Linolenic acid is mainly produced from the hydrolysis of oils rich in linolenic acid (linseed oil or flaxseed). This obtained fatty acid is purified by further distillation resulting in oil extraction.
Oils and fats of natural origin are a valuable counterpoint in various industries due to the high reliability and quality of these ingredients in different fields, responding to different needs and wants. In addition, this oil is praised in the dietary and nutritional field because it is a valuable ingredient for the care of our bodies.
Tab 2
Linolenic acid is a yellow pasty at room temperature (about 20° C above freezing point). It is a very appreciated because this oil has properties, mainly in cleaning products such as detergents. In addition, it also has utility in the chemical industry or in the pharmaceutical, among others.
Linolenic acid is a raw material for alkyd resins drying air (ex. paints for interior and exterior), epoxy esters, urethanated oil, wetting for pigments, siccatives (salts of cobalt, lead and manganese), thickeners, soft, emulsifying soaps (in the form of amide), fatty alcohols and amines to detergents, stabilizers (for epoxy resins), among many others. This acid is therefore very useful in the weapon industry to produce all kinds of products for different sectors allowing components to create high quality and efficiency.
The formulation of our products is performed with a calibrated method to ensure its highest quality. It is a highly valued acid, not only in our industry but in some areas of health.
In our company, therefore we emphasize the importance of oil and natural resources provided to make products for different sectors, thus supplying all kinds of needs.
Tab 3
Flax fatty acid: L-80 CYPACID
Our job is to put in the consumer's hands our products as simple as possible and therefore offer different options depending on the needs or tastes of each entity.
We distribute all products contained in 180 Kg. drums, in containers of 850 Kg. or in bulk tankers. For more information please contact us through our web form or via our phone number.